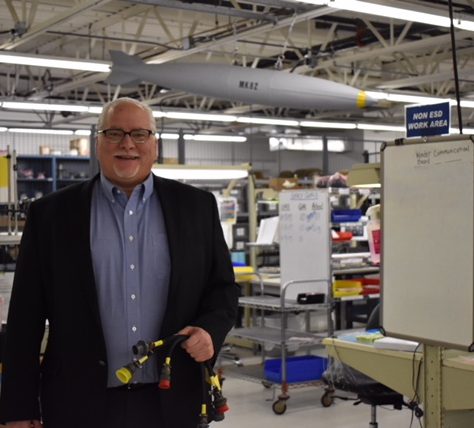 Resume
Growing Businesses by Growing People
Out-of-the-box, charismatic (for an engineer) executive leader with diverse experience with small to medium organizations focused on manufacturing, hi-tech, and engineered products. Demonstrated ability to grow businesses by growing people, processes, and systems. Outcomes are enhanced by an entrepreneurial expertise, curiosity for the unanticipated, and a systems approach best suited for companies ready for the next stage. An energetic, "lead-from-the-front" strategist that connects long-term vision with tactical steps to achieve previously unattained outcomes.
Highlights
♦  Turned around, in 2 years, a plateaued manufacturer stuck in place for 8+ years
♦  Tripled company revenue to $16M in 3 years & brought owner's equity to positive for first time ever
♦  Grew manufacturer's workforce by 78% in 3 years while maintaining delivery & quality
♦  Grew strategy consulting business from 1 office to 5 on east and west coasts
♦  Grew strategic partnership with global ASIC manufacturers to become key beta partner
♦  Founded, grew, and sold engineering company from $0 to $10M revenue in 4 years
Recent Experience
K-TECHnologies, Inc.
2015-2018
Vice President & General Manager
Senior on-site executive brought in to jump start  and grow a 20 year old Electronics & Electromechanical Contract Manufacturer that had plateaued. Full P&L and operational authority responsible for strategic vision, tactical management, and leadership team development leading to overall management of accelerating growth. 
Revenue growth of 278% & 78% staff growth from 2015 through 2018. Established processes, procedures, and metrics to support ongoing growth.
Led company through in-depth process of defining and establishing strategic direction and plans (OPSP/BMC) to own the High Reliability market niche through unique positioning.  Created operational, organizational, and market facing development strategies to uniquely position in growth niches such as commercial space industry.
Recruited and developed high performance multi-generational (Millennials to Boomers) leadership team through coaching, mentoring, skills development and continuous learning. Drove empowerment and ownership mentality throughout all staff levels through performance management training and evaluation.  
Completed multiple strategic initiatives that had floundered for years and caused plateau:

AS9100/ISO9001 Quality Management System certification – 1st company in WNY & 7th in NYS to achieve Revision D status.
Drove creation of full-scale digital sales/customer service/supply chain intranet (K.I.R.A)with corresponding processes. Increased risk management, transparency, efficiency, reduced errors, drove customer satisfaction.
Sourcing, implementation and integration of ERP system capable of integration with digital contract manufacturing environment tools. Significant efficiency and improvement gains across organization.
Upgraded, built, and installed key operational tools, systems, and software necessary for growth in all functional areas. Introduced and utilized technology to drive efficiency, communication, and transparency.

Oversaw 54,000 sq. ft. facility via in-house team handling routine maintenance to full scale construction projects.  
Drove empowerment and evidenced-based decision making across organization via collaboration-led projects, programs, and training.
Obtained & managed state & local economic development funds ($700K) to support staff growth, increase training, and upgrade facilities and equipment.
Recognized in WNY region for results:

5th Fastest Growing Company
Manufacturing Award – Community Involvement
Best Places to Work recipient
INC 5000 (pending)
Brand Mother
2008 – 2015
Partner/Strategist
Co-owner of a strategic business consultancy focusing on positioning ambitious forward-looking organizations for growth, partnership, and sustainability. Addressed growing need for authentic strategies that outpace the market by improving decision making, clarifying the organization's mission, and increasing staff and customer fulfillment through alignment between strategy and brand. Grew from 1 office to 5 offices on east and west coasts. Worked with all size firms and industries from private 3rd generation machine shop to Beijing Olympics.
Led clients through in-depth process of defining and establishing strategic direction and plans to let them own a market through unique positioning.  Created operational, organizational, and market facing development strategies to uniquely position themselves in growth niches.
Select Client Examples:
Focus: Market Penetration
Buffalo Medical Group> Health Care
Redefine organization's relevance through external brand revitalization and distinguish organization through progressive internal patient experience.
Led Senior Leadership team through discovery phase and alignment collaborations.  
Focus: Organization Revival
University at Buffalo Center for Entrepreneurial Leadership > Higher Education
Revived CEL's relevance through evolved positioning, programming and curriculum. 
CEL was awarded a $525,000 budget increase to expand the mission. Program was one of the critical strategies and smart decisions" that secured Governor Cuomo's "Buffalo Billion".
Focus: Sales/Competitive Advantage Development
Veramark, Inc.  > Telecommunications 
Established unique value proposition, product differentiation and sales advantage 
Average sale revenue doubled, sales cycle time halved. Positioned for growth, resulted in acquisition by larger competitor. 
Focus: Sustainability
Nature Conservancy > Not For Profit  
Aligned a giant not-for-profit and the very sincere, but, skeptical fishermen members of a California indusstry association around a brand identity and go-to-market sales strategy for their sustainable fish products.
The California Groundfish Project has one name, one brand, one web page, one winning sales strategy.
Center for Entrepreneurial Leadership – Univ. of Buffalo
2015 – 2018
Founding Instructor – Small Business Entrepreneurs
Created curriculum and teach annual class for 35 startup companies based on Business Model Canvas, Disciplined Entrepreneurship, Lean Startups, brand development, and experience.
FIKA Buffalo
2014 – 2016
Entrepreneurial Ecosystem Development
Founder of grass roots movement to increase participation by entrepreneurs in the regional development of an entrepreneurial ecosystem in Western New York.  Held monthly meetings to bring entrepreneurs together to identify opportunities and obstacles and invigorate a climate of collaboration and innovation to enable a sustainable environment for entrepreneurs.
Prior Experience
ATTO Technology, Inc. Director of Marketing Private (Mfg) Hi-Tech 2005-2008
ATTO Technology, Inc. Director Product Mgmt Private (Mfg) Hi-Tech 2001-2005
DiRAD Technologies, Inc. General Manager Private (IT) IT/Telecom 2000
ABB Control Valves, Inc. US Sales Director Corporate (Mfg) Industrial 1998 – 2000
ICV, LLC. Founder, Co-Owner Start-Up (Eng, Mfg) Power/Oil & Gas 1993 – 2005
ABB Kent Introl, LTD. (UK) US Business Manager Corporate (Mfg) Power/Oil & Gas 1990 – 1993
Clarkson University Counselor Private (Higher Ed) Higher Ed 1988 – 1990
Allied Signal – Amphenol Sales Engineer Corporate (Mfg) Mil/Aerospace 1984 – 1988
Mars Hotel Beer Distribution Co-Founder Start-Up Consumer 1982 – 1984
Education
University of Buffalo
2007 – 2008
Center for Entrepreneurial Leadership CORE Program
Clarkson University
1988 – 1990
M.S. – Systems Engineering
Clarkson University
1980-1984
B.S. – Engineering & Management
Skills
Entrepreneur
Experience starting or running four companies (and selling one), a ongoing commitment to mentoring and teaching entrepreneurs, and research into what truly matters to an entrepreneur provide me an atypical perspective.
Growth Driver
Growing a business relies on the steady application of innovative culture development, continuous improvement, and change management. Introducing new processes, upgrading technology, and the development of a highly functioning team form the foundation for growth.
Values-based Leader
Generational, cultural, and motivational differences are the very sources of markets, customers, and staff the modern organization operates from. These differences are also the fuel that drive the engines of collaboration, innovation, and team work.
Brand Catalyst
As an energetic Brand Catalyst, I bring a broad spectrum of perspectives to the excavation, illumination, substantiation, and elevation of organizations serious about their brand.
Collaborative Innovator
As a time-tested Innovator, I grasp the interplay and importance that cross-functional collaboration and cooperation play in highly successful business development. New opportunities are led by fresh thinking, flexible plans, and an aligned organization.
Design Thinking
As a Design Thinker and systems expert I connect disparate, and often unrecognized, points of information into salient, relevant, and actionable plans.
Marketing Instigator
As an experienced Global Marketer, I look to advantage the unlimited variety of opportunities and challenges arising from cross border, cross markets, and cross culture interactions.
Technologist
I am a Technology Aficionado of long standing. From formalized engineering education to hands on product development, I recognize the value of technology and respect the boundaries of its abilities.